2023 Cube Litening Aero C:68X Pro Road Bike
Description
What's the main obstacle to going faster? Air. The Litening AERO C:68X Pro's sleek, wind tunnel-tested frame is fully UCI-compliant but also cuts through the air like a hot knife through butter. There's no better way to improve your performance and work your way through the peloton to the podium.
The Litening C:68X Pro is proof that a race bike can be UCI-compliant, comfortable, light… and very, very slippery through the air. No compromise. With its Computer Fluid Dynamics-designed chassis, Newmen STREEM wheelset and SRAM Force 2 x 12 gears, you'll not find a more aerodynamically efficient bike in the peloton. A Comfort Flex seatpost and wider tyres keep things comfortable for the long haul, so you can perform at your best. And powerful SRAM Force hydraulic disc brakes add stopping power so you can go faster, for longer.
Rules are rules. A race bike needs to conform in order to qualify for UCI-sanctioned races. But designing a frame that's significantly more slippery through the air, without breaking the rules? That's completely legit. The Litening C:68X's lightweight carbon chassis – built with our premium C:68X material – was designed with extensive use of Computer Fluid Dynamics and real-world wind tunnel testing. The result is a significant 30% reduction in drag, in a fully UCI-compliant frame that elegantly integrates fork, stem, handlebar and seatpost. It's also extremely comfortable, power meter-ready and has clearance for tyres up to 28mm. But most of all, it's very, very fast.
Features
With our Advanced Twin Mold process we use two precisely manufactured forms for our C:62, C:68 and C:68X carbon frames. The first form is to ensure an accurate layup. The second, inner form keeps every individual fibre precisely where it needs to be while the frame cures. The result is a significantly lighter, stronger frame, with fibre density tailored to anticipated loadings at specific points.
Combining all our expertise from carbon frame building into the ultimate material, C:68X carbon uses the optimum blend of fibre and nano particle-infused resin. Precision Advanced Twin Mold manufacturing means we can avoid bonded sleeves or inserts, too. It's the new benchmark for light, stiff and strong.
Air sucks, and that's why Aero Optimized Geometry matters. Developed with a combination of wind tunnel testing, Computer Fluid Dynamics and feedback from athletes, it's our way of ensuring you can get the best possible performance out of you and your bike. Stable when you need it, agile when it counts and above all very, very fast.
Full Integrated Cable Routing takes the clutter of external cables and consigns it to the past. We started from scratch, designing frame and handlebars to accept gear and brake cables internally so that nothing interrupts the bike's clean lines. It's neater, it's more aero, it protects cables from damage and it reduces maintenance. All the wins.
We know that you want to keep track of your performance stats. It's important, which is why we designed a neat, unobtrusive mount for your Garmin. Now you can record and access data wherever you ride, safe in the knowledge that your Garmin unit is securely mounted and out of harm's way.
Weight matters when you're chasing every fraction of a second. That's why our One Piece Carbon Cockpit has been carefully designed to mimic the range of riding positions available with a traditional stem and handlebar combo, but with a substantial weight saving. Light, strong and elegant, it's another way of making every watt count.
If you want to race, there are rules. We know that, which is why all our road race bikes that could be used for racing are fully compliant with UCI regulations on bicycle design and construction. We've created a full range of high performance machines that follow the rules, so you can just concentrate on your performance…
Specifications
Frame and Forks
Frame: Litening C:68X Aero Monocoque Advanced Twin Mold Technology, Aero Optimized Tubes, Full Internal Cable Routing, Flat Mount Disc
Forks: Litening C:68X Aero, Integrated Cable Routing, Flat Mount Disc
Headset: ACROS, Top Integrated 1 1/8″, Bottom Integrated 1 1/4″
Drivetrain
Crankset: SRAM Force DUB Carbon, 48 x 35 Tooth
Chainrings: 48 x 35 Tooth
Rear Derailleur: SRAM Force ETap AXS™, 12-Speed
Front Derailleur: SRAM Force ETap AXS™
Cassette: SRAM Force XG-1270, 10-33 Tooth
Chain: SRAM Force D1
Number of Gears: 24
Braking/Shifting
Shifters: SRAM Force ETap AXS™
Brake System: SRAM Force ETap AXS™ (160/160)
Wheels
Wheelset: Newmen Advanced SL R.50 Streem, Carbon
Tyres: Schwalbe Pro One, Tubeless Easy, 28-622
Finishing Kit
Bar Tape: Acid Bartape RD
Stem: ICR Aero Cockpit System, Integrated Cable Routing, Aero Spacer System, Garmin/Wahoo Mount Interface
Seatpost: Litening C:68X Aero, Comfort Flex
Seat Clamp: Cube Full Integrated Aero Clamp
Saddle: Natural Fit Nuance SLT Road Carbon
Geometry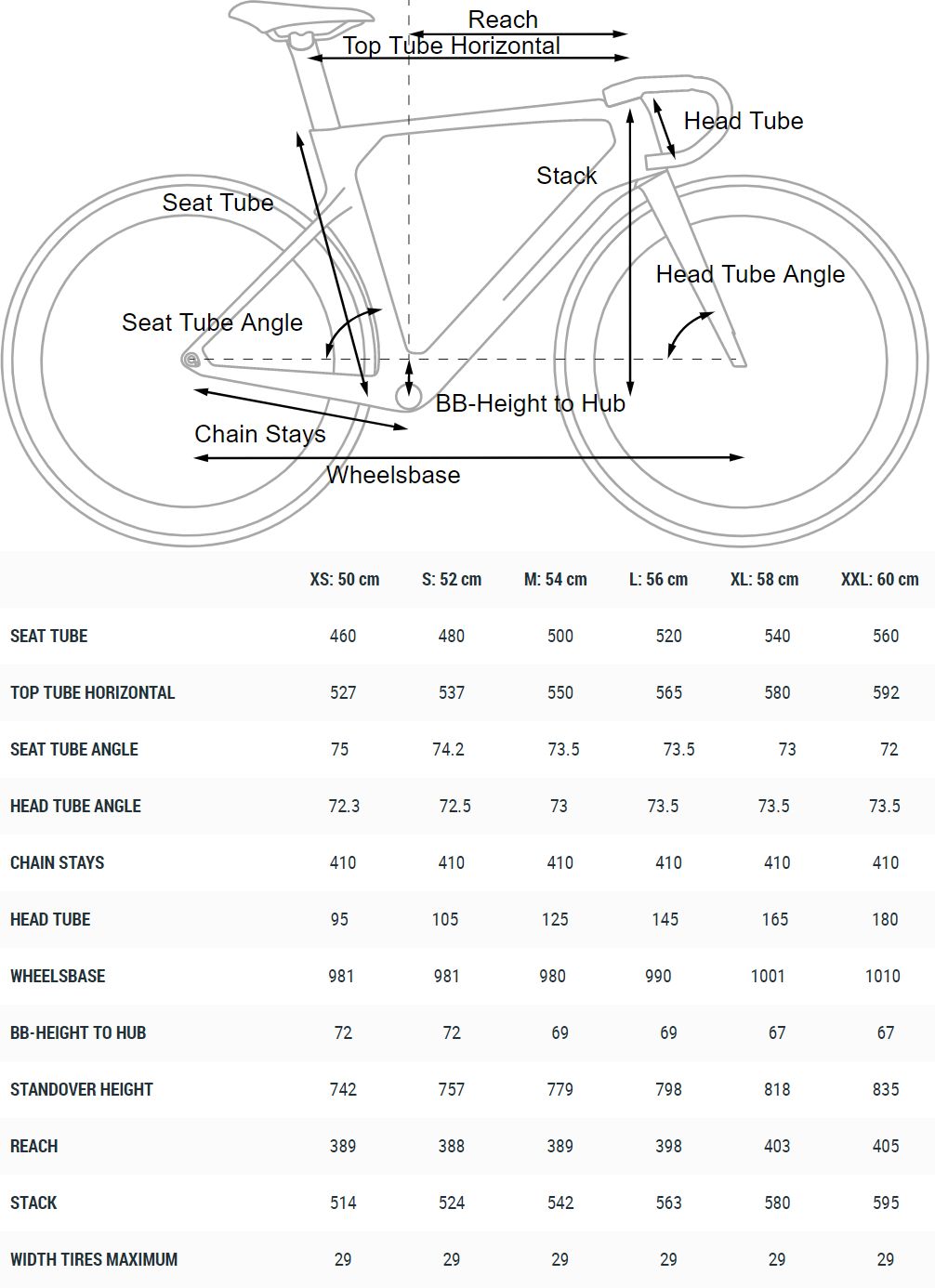 Additional information
| | |
| --- | --- |
| Brand | Cube |
| Color | Carbon/Black |
| Frame Size | 52cm, 54cm, 56cm, 58cm, 60cm |
| Model Year | 2023 |